France has an exceptional heritage!
We make you discover our region with the salt marshes of Guérande, close to Clairjoie. Refined and delicate, salt is available as you wish (coarse salt, fine salt or fleur de sel, etc.) but always guarantees the quality of a product harvested naturally.
It is a very high quality product, 100% natural!
Guérande, city of art and culinary tradition...but also of beauty!
The most famous local specialty is salted butter caramel. Known as the white gold of Guérande for its nutritional properties, Guérande salt is now found in cosmetics.
1. The benefits of salt on the skin
Guérande salt has a high concentration of trace elements, minerals and magnesium, recognized for its soothing and remineralizing properties. Used daily, it brings radiance and vitality to the skin in order to delay the first signs of aging.
2. Want to travel to us?
Find in your institute our organic exfoliation with Guérande salt, which is a treasure for the skin: a guaranteed moment of escape! Salt exfoliates the skin in depth while providing it with remineralizing properties. It eliminates roughness and dead cells, which helps to preserve the softness of the skin. It will be smooth, radiant and revitalized.
This scrub also contains patchouli and bergamot essential oil which have stimulating, decongestant, toning, regenerating and purifying properties to make this treatment a complete treatment.
Continue the beauty salon treatment with organic Guérande salt modeling balm. It makes the skin soft, supple, nourished and silky. Guérande salt will revitalize the skin because it is naturally rich in minerals. This balm also contains shea butter and canola oil which nourishes, restructures and protects the skin. Its smell is sweet and pleasant for absolute relaxation.
Find an institute near you on Clairjoie.com
3. Invite Guérande to your home
Extend your visit to Guérande with our salted butter caramel body milk, containing Guérande salt extracted from the salt marshes. With a velvety texture, this milk applies evenly to the skin in a circular motion and absorbs quickly.
The sugar in salted butter caramel has moisturizing properties because it helps retain water in the heart of the epidermis. The salted butter caramel associated with orange blossom water tones, refreshes and restores radiance to the complexion.
It is a delight for the skin and the senses. We would like to eat this milk so much it smells like salted caramel, but beware gourmets, this treatment is not edible;)
This treatment combines relaxation and indulgence without making you gain an ounce!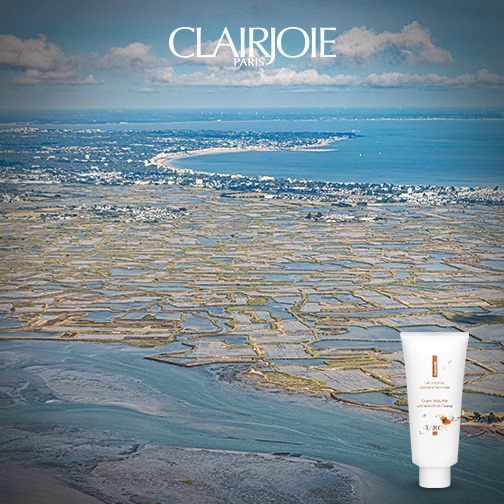 These products are entirely designed and manufactured at Clairjoie 40 km from Guérande. These are organic products that respect the skin and the environment.