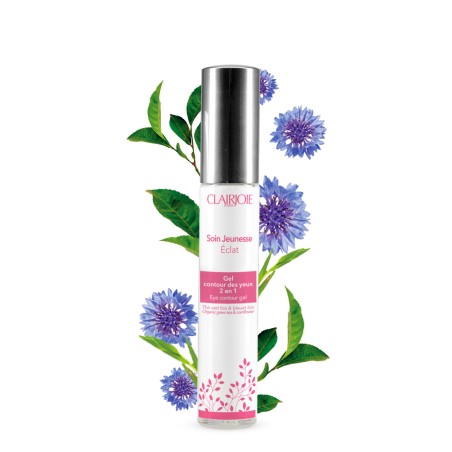 Eye contour gel mask
The eye contour gel mask wakes up the beauty of your eye in an instant. Its non-greasy gel-cream texture refreshes and soothes the eye area. Its active ingredients, which have been shown to be effective in clinical tests, act synergistically upon application to erase signs of fatigue, dark circles and puffiness.
Natural and organic cosmetic made in France. 15 ml pump bottle. 
PRODUCT DETAILS
Now!
Free standard delivery in France
for orders from 49€.
1 sample offered on demand for every order.  
1 additionnel sample every 50€.
WORLDWIDE SHIPPING




Capacity
15mL pump bottle
Active Ingredients
Extract of marine origin -objectified active ingredient
Buckwheat oil – objectified active ingredient
Organic green tea
Seaweed extract Chlorella – objectified active ingredient
Organic chamomile
Ingredient properties
Organic green tea brings all its antioxidant properties to preserve the fragile eye contour area. Aloe vera and chamomile, soothing, combine with cornflower decongestant for a fresh and radiant look. Its buckwheat and Chlorella plant extracts, whose effectiveness has been demonstrated by clinical tests, act in synergy upon application to erase signs of fatigue, dark circles and puffiness. This treatment also contains an active ingredient of marine origin with a proven anti-wrinkle and immediate smoothing effect.
This eye contour mask awakens the beauty of the eyes  with smoothing, radiance, anti-oxidant and light-reflecting effect.
Use
Use as a mask or eye contour cream.
As a mask: Apply a thin layer to the eye contour area. Leave on for 5 minutes. Wipe off the excess with a tissue.
Daily use: Apply to the eye contour using gentle smoothing movements and light tapping movements, from the inner corner to the outer corner of the eye.
Composition
99% of total ingredients are of natural origin
20% of total ingredients are from organic farming
INCI: Aqua (Water), Centaurea cyanus flower water, Glycerin, Aloe barbadensis leaf juice, Xanthan gum, Helianthus annuus seed oil, Microcrystalline cellulose, Mentha piperita leaf water, Chamomilla recutita flower extract, Camellia sinensis leaf extract, Polygonum fagopyrum seed extract, Alteromonas ferment extract, Chlorella vulgaris extract, Caprylic/Capric triglyceride, Cellulose gum, Mica, Titanium dioxide, Parfum, Benzyl alcohol/Dehydroacetic acid, Phenethyl alcohol, Sodium benzoate, Potassium sorbate, Lactic acid, Citric acid, Potassium Hyd roxide.</ span>
99% of ingredients are from natural origin, 20% of ingredients are organic
This cosmetic, like the entire Clairjoie range, is guaranteed paraben-free, phenoxyethanol-free, synthetic fragrance-free and synthetic dye-free.
In accordance with regulations, it has not been tested on animals.
Reviews about this product

Show attestation
Très bon produit que je connaissais par mon esthéticienne

Bon produit pour la texture , l'odeur , l'efficacité par contre il faudrait revoir le système du flacon pompe car effectivement le produit sort trop fort de la pompe

agréable à poser, agit vite, pénètre bien, fait du bien, pour ma part j'en met comme contour des yeux tous les soirs quand je suis fatiguée, par contre le flacon pompe n'est pas précis et souvent le produit est trop vite expulsé et se retrouve dans l'évier

J'ai commencé à utiliser ce masque il y a quelques mois; non suelement il sent plutôt bon mais il fonctionne bien sans abîmer ma peau. J'ai une peau assez sensible.