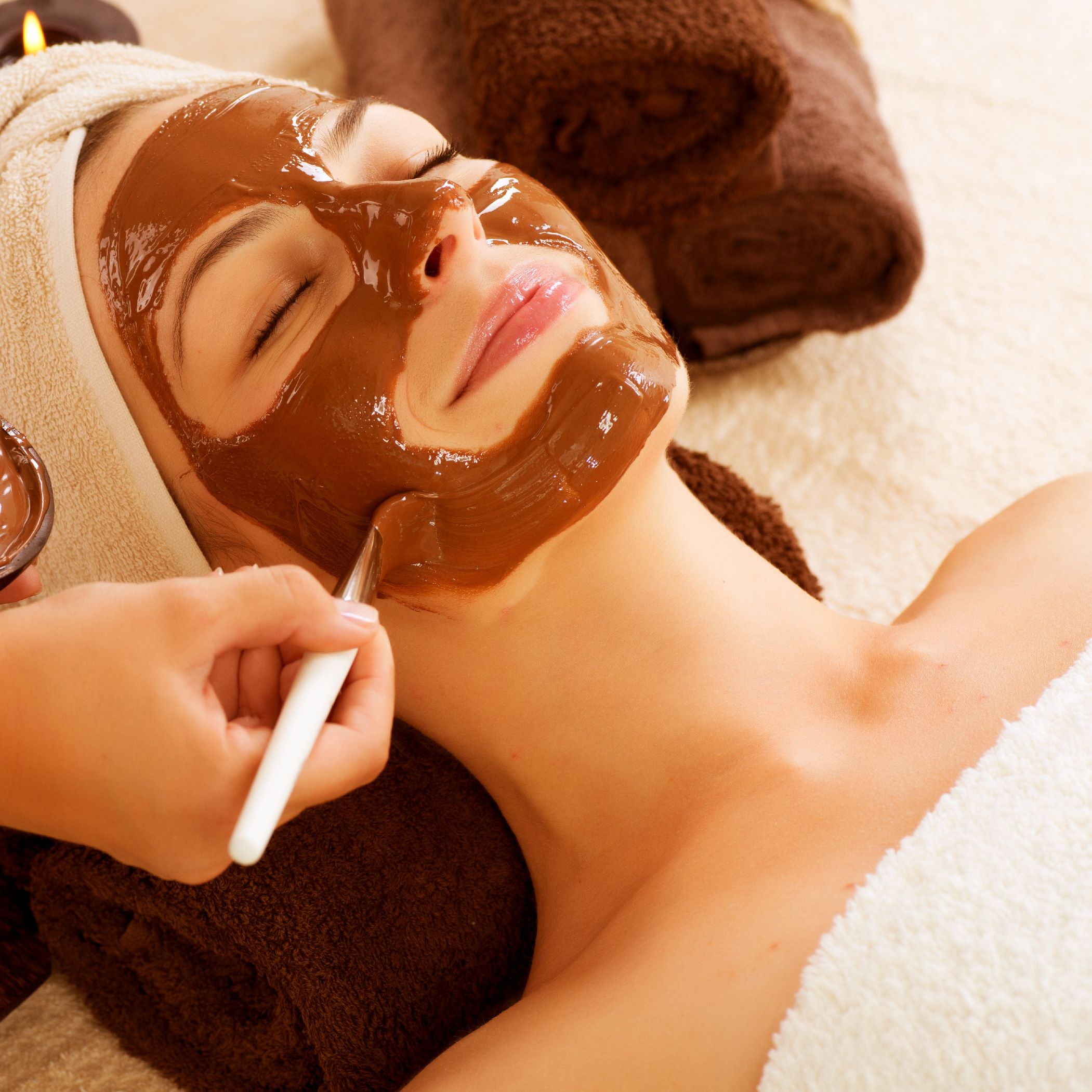 This face and/or body treatment is an exquisite chocolate stopover with its organic and fair trade cocoa powder products. The beauty promises of this treatment are soft, wonderfully supple and nourished skin. It revives the radiance of the complexion. It is a pleasure treatment for cocoa addicts of course; but also for all those who wish to give their skin a boost of radiance. Your Clairjoie beautician welcomes you and takes you to the treatment room. You will be comfortably seated on your back, with your neck and shoulders uncovered.
---
The treatment protocol
The chocolate ritual begins with a phase of make-up removal with our organic make-up cleansers.
All traces of make-up and sebum on the skin are eliminated using Douceur organic cleansing milk and Douceur organic cleansing lotion.
- CLAIRJOIE organic cocoa & sugar face and body scrub
This scrub with a very delicious smell, is to be applied to dry skin. Your beautician takes a little of the product and begins by distributing it in small dabs on the neck, chin, cheeks and forehead. The epidermis is then delicately exfoliated with circular and upward movements (from the base of the neck to the forehead). The product is rinsed with sponges and then the skin is dried with tissues.
---
Treating phase
- Modeling of the entire face, neck and neck with Chocolate flavored organic oil

This oil has a very pleasant smell of cocoa beans. It is nourishing and protective for the skin due to its richness in essential fatty acids. The modeling of the face is started with effleurages which are gentle aesthetic maneuvers. On the face, these maneuvers have the effect of relaxing the features and oxygenating the skin. The modeling is continued on the neck with tensive maneuvers (from the bottom to the back of the neck). The neck and shoulders are massaged last with kneading movements to release muscle tension. This modeling phase is the moment of absolute relaxation of the treatment.
- Application of the Chocolate Nutrifique® Chocolate Face Mask CLAIRJOIE
This chocolate mask is the star product of the treatment. It has a smell of chocolate mousse. In salons, the Nutritious Chocolate mask is applied with a brush and in a thick and uniform layer. The exposure time is 10 minutes. The mask is then removed using a damp sponge. The skin is then dried with handkerchiefs.
- Chocolate body wrap application
In body care, the mask is replaced by a delicious chocolate wrap applied to the entire body. It envelops you in a very gourmet cocoa fragrance. This chocolate body wrap transforms the chocolate ritual into a real cocooning cruise that enchants all the senses.
The wrap Ô chocolat by Clairjoie is obtained from organic and fair trade cocoa. Rich, creamy and having the appearance of a chocolate mousse, this treatment will delight all those who love Cocoa.