Organic body rituals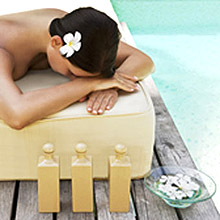 Polynesia, Caribbean, Orient...
Choose your beauty destination!
The Soin rêvé des Vahinés treatment: the Polynesian ritual
Escape under the Polynesian sun and entrust your beauty to Tiare and Frangipani Flowers. Relax and let the scents of Coconut and Vanilla transport you to the shores of heavenly beauty.
Madiana: the Caribbean treatment
Cape the azure waters of the Caribbean with the Madiana treatment. This treatment combines exoticism and indulgence with an organic Pineapple and Passion Fruit granita body scrub and an organic Passion Fruit massage oil. The care products smell wonderfully good and the invigorating and original massage relaxes you perfectly
Oriental treatments: The ritual of the Goddess Yalil
This treatment uses the secrets of the Queens and Sultanas of the desert to reveal the incredible softness of your skin. This magnificent ritual with floral and spicy notes will take you on a journey to the palaces of the Orient.
The candle ritual, a pure moment of relaxation
Relax wonderfully in the expert hands of your beautician. The candle treatment begins with a body exfoliation, followed by a long massage with a candle whose scent you choose: Coconut or Orange Blossom.
The Ô chocolate treatment
Clairjoie has developed an organic chocolate treatment for all Cocoa addicts! This chocolate ritual is a delicious break from hectic city life. To be consumed without moderation!
Tentations sucrées treatment
Let yourself be tempted by this deliciously sweet treatment with notes of grapes, honey and red fruits.
With this care, Clairjoie wanted to pay tribute to its beautiful Loire-Atlantique region. The combination of Guérande salt and salted butter caramel makes it a delight for the skin and the senses.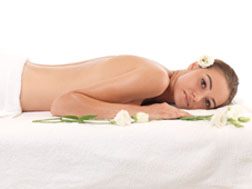 All the products used in these treatments are composed of 99 to 100% ingredients of natural origin.