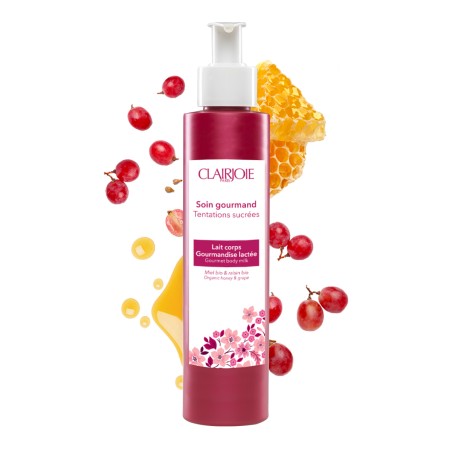 Gourmandise lactée body milk
This body milk moisturizes and deliciously perfumes the skin. A subtly scented veil with gourmet and sweet notes persists on the skin after application of the milk. The moisturizing and nutritious properties of grapes and honey make body milk a daily source of beauty and hydration for the skin.
Organic cosmetic made in France 
PRODUCT DETAILS
Now!
Free standard delivery in France
for orders from 49€.
1 sample offered on demand for every order.  
1 additionnel sample every 50€.
WORLDWIDE SHIPPING




Contenance
Tube 200mL
Ingrédients actifs
Miel biologique
Huile de pépins de raisin biologique
Extrait de feuilles d'Olivier biologique
Propriétés des ingrédients
Clairjoie a choisi les plus belles sources de beauté pour ce lait corps hydratant.
Secret ancestral de beauté, le miel est utilisé pour ses vertus adoucissantes et hydratantes. L'huile de pépins de raisin est naturellement riche en vitamine E ce qui permet de maintenir la peau protégée efficacement. Elle est aussi réputée pour ses propriétés émollientes et hydratantes*. Ce lait pour le corps contient également un extrait biologique de feuilles d'Olivier aux propriétés antioxydantes afin d'aider la peau à rester jeune.
* Hydratation des couches superficielles de l'épiderme.
Utilisation
Appliquer sur la peau en mouvements circulaires. L'application du lait corps gourmandise lactée laisse la peau délicieusement parfumée.
Précaution d'emploi
-
Composition
99% du total des ingrédients sont d'origine naturelle
11% du total des ingrédients sont issus de l'agriculture biologique
Ingrédients: Eau, Huile biologique de Tournesol, Glycérine, Emollient d'origine naturelle, Agent de texture d'origine naturelle, Huile biologique d'Olive, Miel biologique, Emulsionnant d'origine naturelle, Gomme xanthane, Extrait biologique de feuilles d'Olivier, Parfum, Huile biologique de pépins de Raisins, Alcool benzylique/Acide déhydroacétique, Agent de consistance d'origine naturelle, Vitamine E, Acide phytique, Acide citrique, Benzoate de sodium, Sorbate de potassium, Géraniol, Linalool.
INCI : Water (Aqua), Glycerin, Helianthus annuus seed oil, Dicaprylyl carbonate, Glyceryl stearate, Mel, Olea europaea fruit oil, Cetearyl wheat straw glycosides, Xanthan gum, Parfum, Cetearyl alcohol, Olea europaea leaf extract, Vitis vinifera seed oil, Tocopherol, Benzyl alcohol/Dehydroacetic acid, Sodium benzoate, Potassium sorbate, Citric acid, Phytic acid, Geraniol, Linalool.
Ce cosmétique, comme l'ensemble de la gamme Clairjoie, est garanti sans paraben, sans phénoxyéthanol, sans parfum de synthèse et sans colorant de synthèse.
Conformément à la réglementation, il n'a pas fait l'objet de test sur les animaux.
Reviews about this product

Show attestation
J'avais acheté ce lait corps chez mon esthéticienne et j'adore! Déjà l'odeur est à tomber, je n'ai jamais trouvé cette odeur dans un autre produit. La texture est assez ferme pour un lait, on n'en met pas partout. Il s'étale très bien et laisse la peau vraiment plus souple.