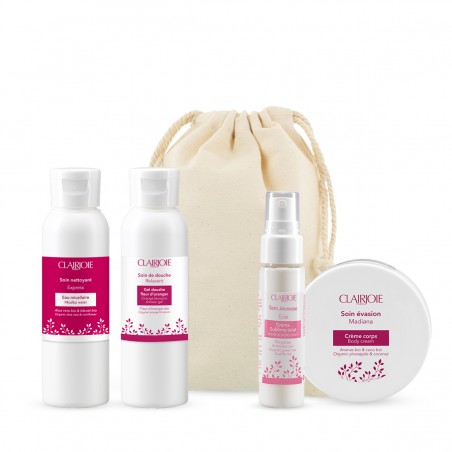 Summer beauty pouch
Your limited edition beauty bag!
From weekends in the countryside to vacations at to the other side of the world, be beautiful and responsible with these 4 natural and organic beauty basics to take away!
This organic and reusable cotton pouch contains products in travel size suitable for the plane:
- Micellar water 100ml
- Sublime Radiance Cream 30ml
- Orange blossom shower gel 100ml
- Madiana body cream 50ml
PRODUCT DETAILS
This reusable organic cotton pouch contains:
Removing make-up becomes a real pleasure with this micellar water with a fresh and tangy apple scent. It combines organic peppermint and blueberry hydrosols with an oily apricot extract. They act in synergy to bring all their refreshing and toning virtues. Organic apricot extract and aloe vera moisturize* and soften the skin.
*Hydration of the superficial layers of the epidermis.
The sublime radiance cream is applied daily. This light city cream provides a powdery finish and delicately perfumes the skin. It contains extracts of lotus, green tea and white rice, which help the skin to fight against external aggressions, promote cell regeneration and maintain hydration in the epidermis. Fruit extracts bring radiance to the complexion.
- An orange blossom shower gel 100ml
This shower gel contains toning organic orange blossom hydrosol and organic sweet orange essential oil. Its gentle formulation is suitable for all skin types and leaves the skin very pleasantly scented.
The creamy, matte texture of this cream is a delight for the skin. Coconut oil and pineapple extract combine to provide their nourishing and softening properties. Its wonderfully gourmet and fruity fragrance transports you deliciously to the exoticism of the Caribbean islands.