Organic cocoa in cosmetics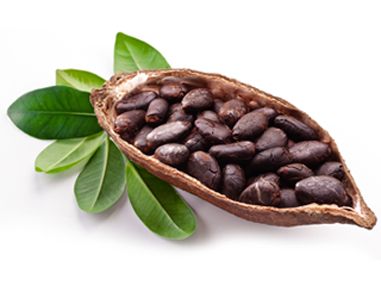 Cocoa, a cosmetic ingredient to consume without moderation...

The cocoa tree (or cocoa tree) is a tropical shrub 10 to 15 m high native to Central America of the genus theobroma. Theobroma meaning food of the gods.
Its fruits which measure 20 to 30 cm long are called pods. The pods contain the seeds of the tree which are called cocoa beans.
The cocoa beans contain cocoa butter as well as other substances such as caffeine or theobromine.
Cocoa butter and cocoa powder are both obtained from the bean of the cocoa tree.
The cocoa beans are fermented then roasted and pressed (obtaining the butter) then reduced to powder.
< br />Cocoa butter is a widely used ingredient in cosmetology. It was formerly mainly used as an excipient, ie in the base of the product whether in cosmetics or in pharmacy.
The cosmetic properties of cocoa butter make it today a noble active ingredient in its own right.
Cocoa butter is rich and nourishing. It is considered very protective for dry skin, which it will promote hydration and soften.
This butter is considered regenerating because it contains vitamin A which is involved in the skin renewal process.</p >

Cocoa butter also has anti-aging properties because it contains antioxidants. These antioxidants help the skin fight against free radicals, which are partly responsible for skin aging.

Cocoa butter contains vitamin E in particular, which plays an important role in the skin's natural fight against ultra-violet (UV) rays.
Cocoa butter can be use pure skin or lips. It has the advantage of melting easily and thus being easy to apply.

You can of course make homemade cosmetics using cocoa butter. In addition to giving a beautiful creamy texture to the products, it perfumes them very pleasantly. However, be careful not to heat it too much (above 70°) because cocoa butter easily goes rancid when overheated and the product thus obtained will keep less well.
Is cocoa powder used in cosmetics? so-called chocolate to the delight of fans of gourmet cosmetics.



Clairjoie products containing organic cocoa butter or powder: