Tahiti, the Polynesian beauty secret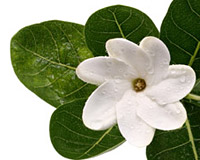 Tahiti Monoi, whose native meaning is "scented oil" is a beauty oil obtained by maceration of Tiare flowers in Coconut oil which is also called Copra oil.
Tahiti Monoi is known and recognized for the softening properties of Tiare and the emollient properties of Coconut oil.
Repairing and beautyfiying, Tahiti Monoi is present in the entire range of Clairjoie Polynesian skincare
---
Monoï de Tahiti, a controlled designation of origin
Monoï de Tahiti is a recognized and defended beauty secret. Since 1992 a decree has strictly regulated its production process in order to guarantee its origin and quality.
"The designation of origin "Monoï de Tahiti" is reserved for the product made in French Polynesia in accordance with local customs, by maceration of flowers of Gardenia tahitensis (flora of Candolle, family of rubiaceae) of Polynesian origin, hereinafter called tiare, in refined coconut oil. The tiare flowers and coconuts used for the manufacture of the product must be harvested exclusively in the defined geographical area"
You should know that the name Tahiti Monoi can be followed by the precise name of the island where the Tiare flowers and the Coconuts come from.
These designations may be "Marquises", "Tuamotu", "Gambier Islands", "Austral Islands", "Society Islands", "Moorea" or "Bora Bora"...
---
Coconut oil
Coconuts must be harvested when they reach maturity and come from coconut trees grown using traditional methods on soils of coral origin.
The coconut kernels are extracted and then dried in the sun for ten days and then hot pressed.
The oil obtained is then filtered and refined by a strictly supervised process.
The quality of the Tiare flowers used in the composition of Monoi is also strictly controlled.
---
The Tiare Tahiti flower
The other component of Monoï is the Tiare flower.
The Tiare flower is a white flower with a powerful fragrance that grows on an evergreen shrub.
It is unfortunately often visually confused with the white flower with the yellow heart of the Frangipani.
The quality of the Tiare flowers used in the composition of Monoi is also strictly regulated.
The legislator provides that the flowers must be picked at the flower bud stage (this is the stage which precedes hatching).
The Tiare flowers thus obtained must be used for the manufacture of Monoï at the latest the day after their picking.
A minimum of 10 Tiare flowers must be macerated per liter of coconut oil for a minimum of 10 days; this in order to guarantee the concentration of active ingredients of the flower in the Monoï thus obtained.