Know the essentials of organic cosmetics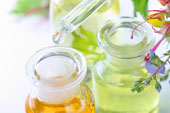 Organic cosmetics are natural beauty products that meet well-defined criteria by certification bodies. If they of course have the same function as "traditional" cosmetics, their manufacturing must respect rules in terms of choice of ingredients. Various organizations or labels intervene to offer consumers of organic beauty products a label guaranteeing them the organic quality of the products.
Are organic beauty products as effective as traditional cosmetics?
Yes! In addition, the choice of active ingredients and scents has grown considerably over the past few years: the consumer can find what they are looking for, for all skin types and all tastes. The significant development of bio-cosmetology in recent years has resulted in a boom in research in the field of natural active ingredients and natural fragrances. Today bio-cosmetology offers natural beauty products whose effectiveness and sensoriality are comparable to those resulting from conventional formulation.
Are there preservatives in organic skincare products? What ingredients are prohibited in the products?
The presence of preservatives is most of the time essential, but their selection depends on the rules established by the certifying bodies. Prohibited preservatives are: glycols, phenoxyethanol, parabens, formalin, formaldehyde and formaldehyde releasers. The other prohibited ingredients are: synthetic perfumes and phthalates, mineral oils, synthetic dyes, components obtained by ethoxylation or halogenation. Ingredients of animal origin are only authorized in natural and organic cosmetics on the condition of respecting animal life: milk, honey, etc.
Are organic cosmetics more expensive than conventional cosmetics?
Most actually have a slightly higher cost price than traditional cosmetics. Several factors come into play: more limited choice of preservatives and containers, more demanding manufacturing processes, administrative costs of certification... But choosing an organic cosmetic means making a long-term choice for your health and the environment!
What is the certification of organic beauty products?
The principle of certification is to have the company that declares to manufacture and/or market its products in accordance with ecological criteria checked by an independent entity. ECOCERT is one of the main French certification bodies for organic products. Clairjoie certifies a number of its products there.
All information on ECOCERT certification is at www.ecocert.fr.
What is the COSMEBIO label?
COSMEBIO is the largest French professional association for ecological and organic cosmetics. It brings together all the players in the cosmetics industry. It publishes demanding specifications and issues a label, product by product. This label aims to guarantee the commitment of the companies that display it and to guide the consumer with confidence towards authentic ecological and organic products that meet the ethical and technical criteria of the Founding Charter.
Clairjoie has been a signatory since the company creation of the charter COSMEBIO.